hotels and apartments
sport and leisure
localities
information
8.5
Apartments da Renata

Renata Pitscheider
Canazei - Strèda del Faure, 6


Telephone: (+39) 34729903... (+39) 3472990321
www.darenata.com - info@darenata.com
Apartments - Offered treatments: SC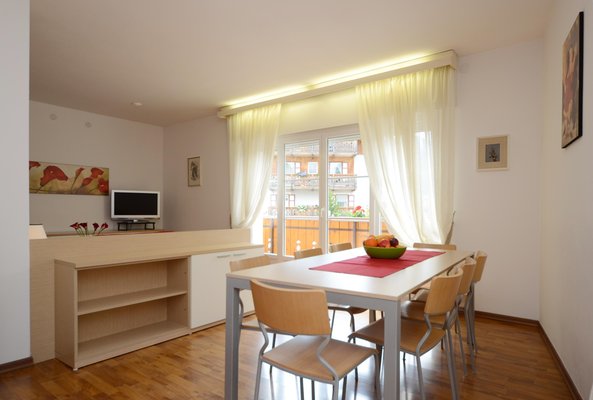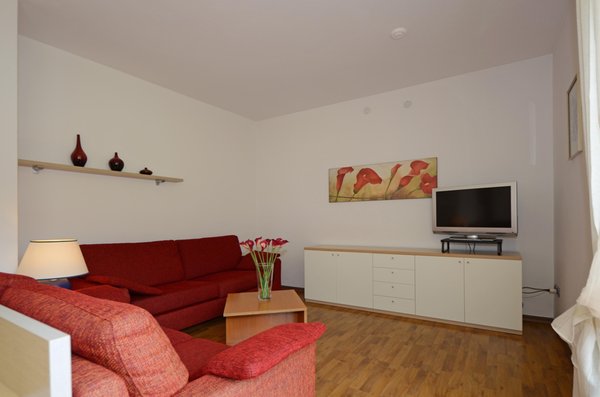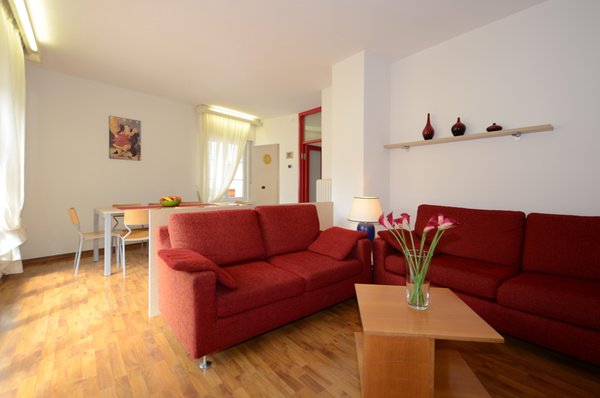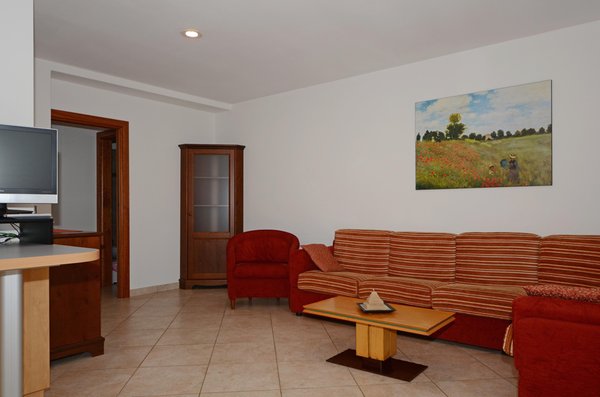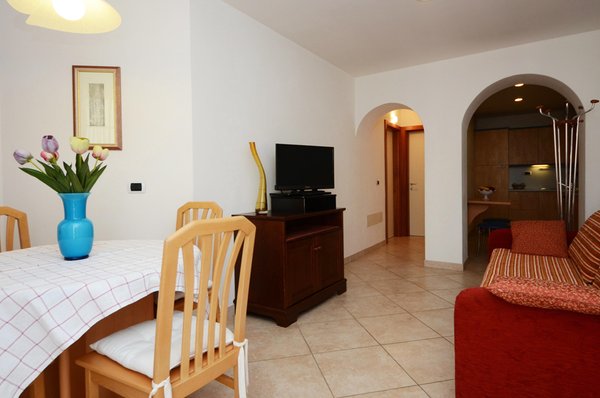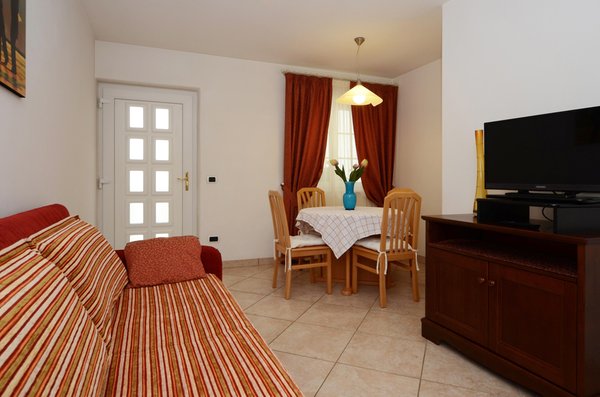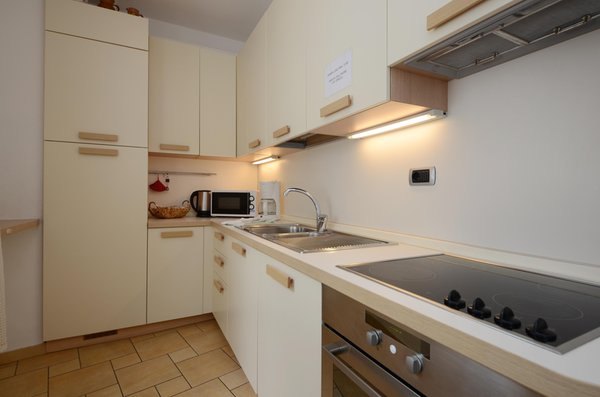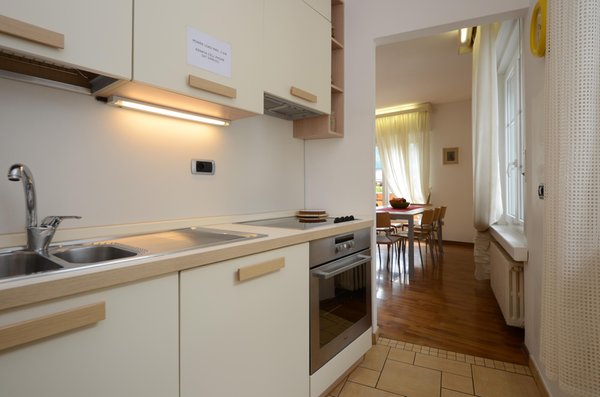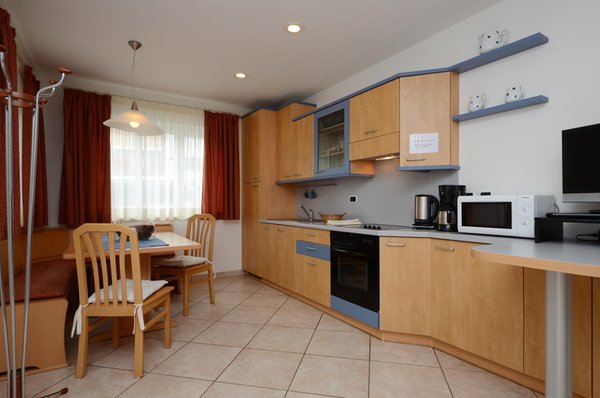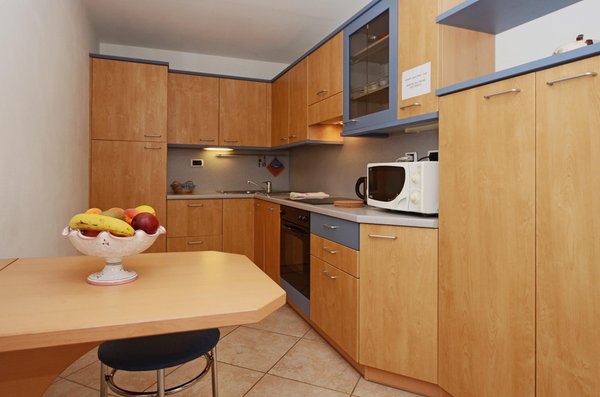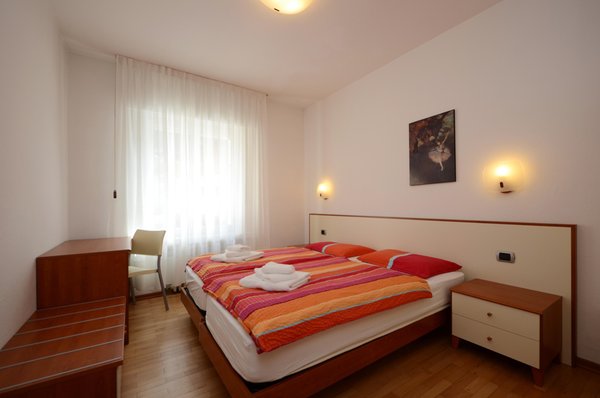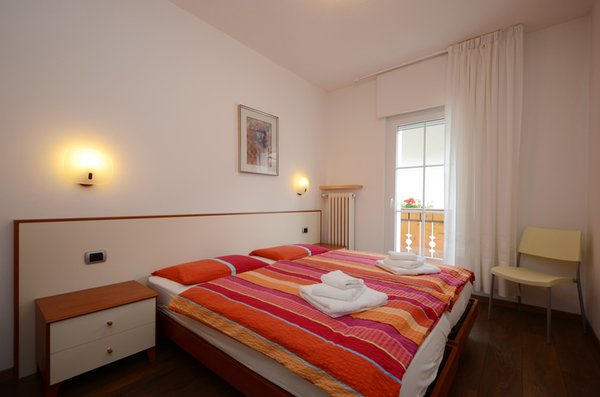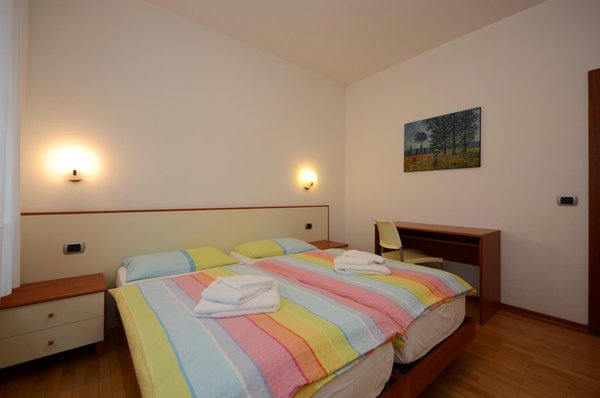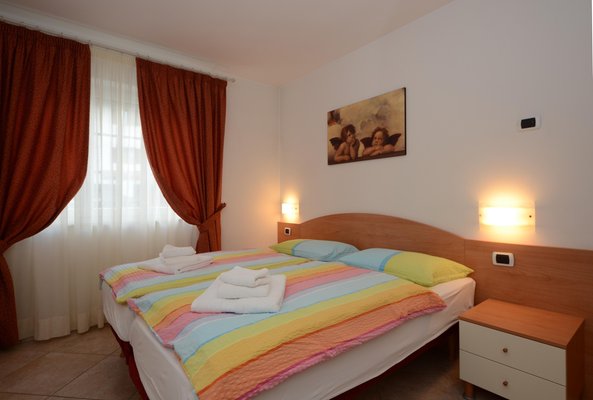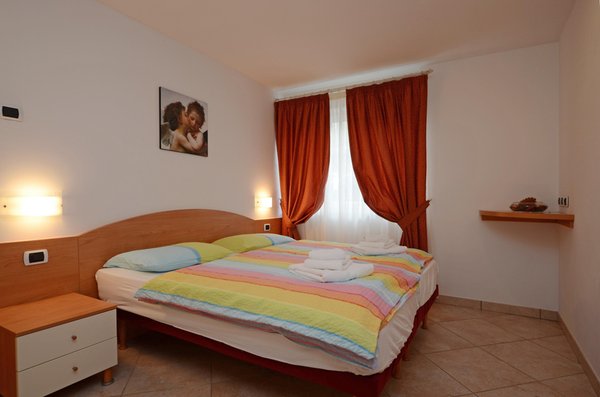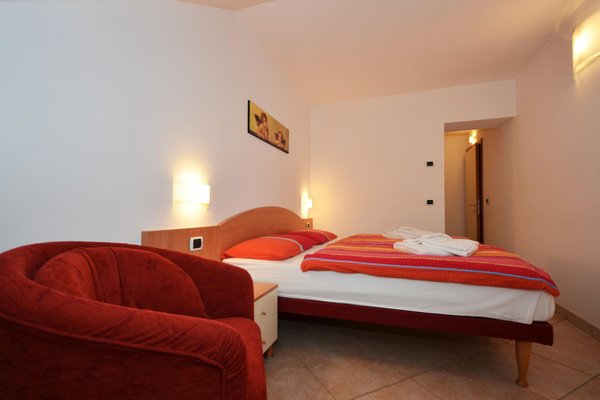 The apartments da Renata are located in the centre of Canazei, in the Dolomites in Val di Fassa, in Trentino, in a quiet area, about 100 meters from the modern cable car that leads to the heart of the Sellaronda.
The house is within walking distance to shops, to the water sports centre Dòlaondes and the ski school Marmolada. The ski bus stop is 50 metres away.
In winter, skiing and snowboarding are the most popular sports, on the snow-covered slopes of the huge Dolomiti Superski, which are always very well maintained to the smallest detail.
In summer, the Val di Fassa becomes a paradise for climbers, hikers, and lovers of paragliding and hang-gliding.

Licence / identification code: CIPAT App. 1 022039-AT-065256, App. 2 022039-AT-065257, App. 3 022039-AT-065258
| | |
| --- | --- |
| General information | at 1450m a.s.l., 50m from the bus stop |
| Facilities | open parking space |
| In room/apt. | safe, TV with satellite reception, hairdryer, dish washer, washing machine, drying rack |
| Further services for apartments | bed linen and towels, shared washing machine |
| Internet | in the room/apartment |
| Children | children up to 5 years old not allowed |
| Pets | not allowed |
| Payment methods | no card payment accepted |
| Bike | locked bicycle storage |
| Motorbike | covered motorcycle parking space, guarded |
| Ski | skiroom with ski boot heater, Alpine skiing shuttle, public skibus |
Availability and approximate prices
Check availability and see prices
true

1 x Apartment 1

https://images.yesalps.com/hp/1018796/1315149_zona-giorno.jpg

SP

{"S": 8, "M": 8, "B": 0, "N": false}

110 m2

[{"id": "MTR", "qta": 4}]

38€ per person

[{"id": "camera", "index": 1, "letti": [{"id": "MTR", "qta": 1}], "kitchenette": false}, {"id": "camera", "index": 2, "letti": [{"id": "MTR", "qta": 1}], "kitchenette": false}, {"id": "camera", "index": 3, "letti": [{"id": "MTR", "qta": 1}], "kitchenette": false}, {"id": "camera", "index": 4, "letti": [{"id": "MTR", "qta": 1}], "kitchenette": false}]

living area (kitchenette), 2 bathrooms (WC, shower, bidet - WC, shower, bidet)

Apartment 1 is located on the first floor. It consists of 4 bedrooms and 2 bathrooms. In the kitchen there are ceramic hob, oven and microwave, dishwasher. Available washing machine, safe, satellite TV and free Wi-Fi.

[0, 1, 2]

[{"id": 1315149, "url": "https://images.yesalps.com/hp/1018796/1315149_zona-giorno.jpg", "width": 593, "height": 400}, {"id": 1315150, "url": "https://images.yesalps.com/hp/1018796/1315150_zona-giorno.jpg", "width": 600, "height": 397}, {"id": 1315151, "url": "https://images.yesalps.com/hp/1018796/1315151_zona-giorno.jpg", "width": 600, "height": 398}, {"id": 1315147, "url": "https://images.yesalps.com/hp/1018796/1315147_cucina.jpg", "width": 600, "height": 397}, {"id": 1315148, "url": "https://images.yesalps.com/hp/1018796/1315148_cucina.jpg", "width": 600, "height": 397}, {"id": 1315146, "url": "https://images.yesalps.com/hp/1018796/1315146_camera-darenata.jpg", "width": 600, "height": 398}, {"id": 1315152, "url": "https://images.yesalps.com/hp/1018796/1315152_camera-darenata.jpg", "width": 600, "height": 397}, {"id": 1315153, "url": "https://images.yesalps.com/hp/1018796/1315153_camera-darenata.jpg", "width": 600, "height": 397}, {"id": 1315159, "url": "https://images.yesalps.com/hp/1018796/1315159_camera-darenata.jpg", "width": 600, "height": 398}, {"id": 1315155, "url": "https://images.yesalps.com/hp/1018796/1315155_bagno.jpg", "width": 600, "height": 400}, {"id": 1315156, "url": "https://images.yesalps.com/hp/1018796/1315156_bagno.jpg", "width": 600, "height": 400}, {"id": 1315157, "url": "https://images.yesalps.com/hp/1018796/1315157_bagno.jpg", "width": 600, "height": 398}, {"id": 1315158, "url": "https://images.yesalps.com/hp/1018796/1315158_bagno.jpg", "width": 600, "height": 397}]

true

1 x Apartment 2

https://images.yesalps.com/hp/1018796/1315178_zona-giorno.jpg

SP

{"S": 4, "M": 4, "B": 0, "N": false}

60 m2

[{"id": "MTR", "qta": 2}]

38€ per person

[{"id": "camera", "index": 1, "letti": [{"id": "MTR", "qta": 1}], "kitchenette": false}, {"id": "camera", "index": 2, "letti": [{"id": "MTR", "qta": 1}], "kitchenette": false}]

living area (kitchenette), bathroom (with WC, shower, bidet)

Apartment 2 is located on the ground floor and consists of two bedrooms and 2 bathrooms. The kitchen has a ceramic hob, oven and microwave, dishwasher, shared laundry room, safe, satellite TV and free Wi-Fi.

[0, 1, 2]

[{"id": 1315178, "url": "https://images.yesalps.com/hp/1018796/1315178_zona-giorno.jpg", "width": 600, "height": 397}, {"id": 1315176, "url": "https://images.yesalps.com/hp/1018796/1315176_cucina.jpg", "width": 600, "height": 398}, {"id": 1315177, "url": "https://images.yesalps.com/hp/1018796/1315177_cucina.jpg", "width": 592, "height": 400}, {"id": 1315173, "url": "https://images.yesalps.com/hp/1018796/1315173_camera-darenata.jpg", "width": 593, "height": 400}, {"id": 1315174, "url": "https://images.yesalps.com/hp/1018796/1315174_camera-darenata.jpg", "width": 600, "height": 397}, {"id": 1315170, "url": "https://images.yesalps.com/hp/1018796/1315170_bagno.jpg", "width": 600, "height": 398}, {"id": 1315171, "url": "https://images.yesalps.com/hp/1018796/1315171_bagno.jpg", "width": 600, "height": 397}, {"id": 1315172, "url": "https://images.yesalps.com/hp/1018796/1315172_bagno.jpg", "width": 600, "height": 397}, {"id": 1315179, "url": "https://images.yesalps.com/hp/1018796/1315179_dettagli-darenata.jpg", "width": 600, "height": 397}, {"id": 1315180, "url": "https://images.yesalps.com/hp/1018796/1315180_dettagli-darenata.jpg", "width": 600, "height": 397}]

true

1 x Appartamento 3 (Apartment)

https://images.yesalps.com/hp/1018796/1315191_zona-giorno.jpg

SP

{"S": 2, "M": 2, "B": 0, "N": false}

45 m2

[{"id": "MTR", "qta": 1}]

38€ per person

[{"id": "camera", "letti": [{"id": "MTR", "qta": 1}], "kitchenette": false}]

living area (kitchenette), bathroom (with WC, shower)

Apartment 3 is located on the ground floor and consists of a bedroom and a bathroom. In the kitchen there is ceramic plate, oven and microwave, as well as dishwasher. There is also a shared laundry room, safe, satellite TV and free Wi-Fi.

[0, 1, 2]

[{"id": 1315191, "url": "https://images.yesalps.com/hp/1018796/1315191_zona-giorno.jpg", "width": 600, "height": 398}, {"id": 1315192, "url": "https://images.yesalps.com/hp/1018796/1315192_zona-giorno.jpg", "width": 600, "height": 397}, {"id": 1315190, "url": "https://images.yesalps.com/hp/1018796/1315190_cucina.jpg", "width": 600, "height": 397}, {"id": 1315193, "url": "https://images.yesalps.com/hp/1018796/1315193_camera-darenata.jpg", "width": 600, "height": 400}, {"id": 1315189, "url": "https://images.yesalps.com/hp/1018796/1315189_bagno.jpg", "width": 600, "height": 397}]
Availability and approximate prices
The availability and the prices are entered and updated by the accommodation they refer to. As these data are subject to continuous changes, the definitive availability and price must be agreed directly with each accommodation. The minimum and maximum prices can take into consideration only the most common services and conditions of the accommodation; in case of different solutions the prices may differ from the specified range. The indicated prices may not take into consideration several factors, therefore the final price and the details must be agreed directly with each lodging facility. The indicated prices may not include possible costs for final cleaning service or tourist taxes.
Other rooms

:

Available treatments

:

Description

:
Price summary
| from | until | per person per night |
| --- | --- | --- |
| 26 May 2023 | 25 October 2023 | 38€ |
Reviews
recommended by 2 guests
Map
Apartments da Renata
Strèda del Faure, 6
Canazei
GPS coordinates
lat: 46.4763° N lon: 11.7722° E
lat: 46° 28' 34.9'' N lon: 11° 46' 20.0'' E
Information about the location: at 1450m a.s.l., 50m from the bus stop.